A Multimedia Tutorial to Train Kids to Help at Home
by Isaiah Carrier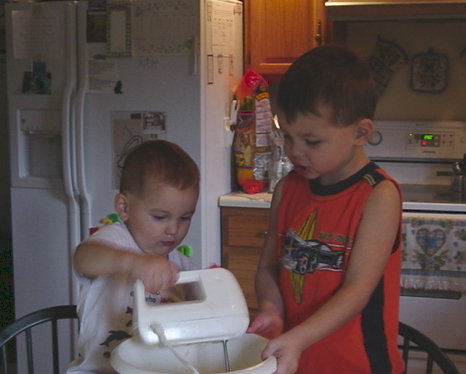 Do your kids need some encouragement and direction in order for them to be more helpful around the house? Then you will LOVE the "Children and Chores" multimedia series by nine year-old Isaiah Carrier! Created and produced by a kid, for kids, this set of 5 videos speaks at a child's level while providing detailed directions. Along with the videos, you'll get bonus downloads as well. This is sure to spark some excitement in your kids!
This set of 5 multimedia presentations is embedded into a .PDF document, so you can easily play and save the videos and all of the accompanying downloads. This series includes:
How to Set the Table with BONUS DOWNLOADS: Table setting template and "Family Table Manners" Mini-poster

How to Clean the Bathroom Sink and Toilet with BONUS DOWNLOAD: "Clean Bathroom" illustrated checklist 

How to Dust with BONUS DOWNLOADS: homemade furniture polish recipe and step-by-step Dusting "chore card"

How to Vacuum with BONUS DOWNLOAD: Illustrated Bible memory verse poster–Proverbs 10:4; and  

How to Milk a Goat with BONUS DOWNLOADS: two kids' "Fun Pages"–do word puzzles and learn about goats!
You will also receive an ADDED GIFT–the "Team Building" chapter excerpt from The Values-Driven Family. It offers strategies and encouragement for turning your family into a winning team as you work and play together. It even includes a sub-section on the topic of children and chores.

Children and Chores multimedia tutorial

$3.95

Video files are .WMV format and are NOT Mac-compatible
(Net proceeds do go directly to Isaiah! He thanks you in advance for considering a purchase.)


About the Author/Producer
Isaiah is currently 16 years old; this project was completed when he was nine. As a part of his homeschool curriculum, Isaiah learned to operate a digital camera and use computer software such as Microsoft Word and Publisher, Camtasia, Audacity, and Photoscape. Because his parents are involved in a home business, he was also interested in learning about sales and marketing. This project allowed Isaiah to put all of those skills and interests into practice.
Isaiah loves the Lord and has learned to serve God by serving others at home. He is a diligent worker and has always wanted to put his blossoming skills to work for him.