Lately we've all seemed tired, some have had recurring headaches, and each day has had enough trouble of its own…so blogging has kind of fallen by the wayside. Here are a few photos by way of update: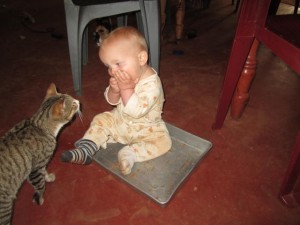 Enoch, at 15 months, keeps us all smiling. Still pretty much non-verbal (except for the occasional "Mama" or "bye,") he still manages to communicate quite well. His loud and abrupt, "Eh!" sound usually indicates that an older sibling is provoking him in some way and he is not pleased. Enoch also has an amusing love/hate relationship with both our cats. They put up with his merciless pulling of fur because they usually end up sharing food on the floor after meals. Here, I put the pan of crumbs on the floor for the cats after we had polished off our breakfast cake–and look who ended up with the advantage!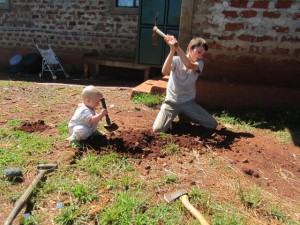 A week or so ago, Isaiah was experimenting with molding plastic (not sure why, but it's always one project or another). He needed some good "clay" to make a mold for the melted plastic and the soil right next to our house showed some good specimens. He set to work digging a big hole, and up toddled Enoch to "help." He loves to copy his big brother. 🙂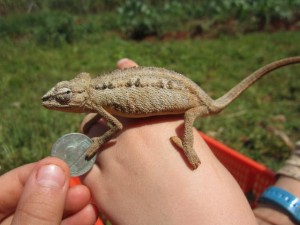 And speaking of big brothers, the entire neighborhood now knows that our 11 year-old, Jonah's, greatest wish was to find a chameleon for a pet in Africa. As a result, he now has SIX. Here is one. He has names for them all, but I can't keep up. He spends about an hour a day hunting for appropriate-sized flies, grasshoppers, and crickets to feed all these little guys. The locals are scared of them and believe them to be poisonous. Our neighbor, witnessing both Jonah and Rebekah handling them, said she thinks that we must be using some chemicals on our hands to be able to do that safely.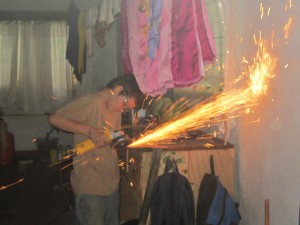 Please disregard the pretty pink princess sleeping bag hanging over Isaiah's head here. (It started to rain before the laundry was completely dry, so we have a back-up clothesline stretched across the kitchen.) Isaiah decided to use my kitchen counter as a work bench for his new "business"–grinding jembes (hoes), slashers, pangas (machetes), axes, and knives. It puts a few shillings in his pocket, which he is excited about. We have talked at length about "business opportunities" for the boys–we don't want to take business away from any locals, and  will allow them to pursue things that only "we" are able to do. Because we have solar power and an inverter as well as a generator–and a good grinding tool–Isaiah is able to do this work, which no one else in the area does. Jonah has been baking cakes for a couple of local shops and selling small pieces for 5 shillings each–also something that no one else does because, of course, only the mzungus have an oven!
Finally, we've been having a local guy (Aniga) do some various odd jobs for us, most involving working with wood. One project is to make a smaller gate in our fence (we currently have a very large and very heavy gate, which takes two people to open and close. We don't really need one that large for foot traffic and Marc's motor bike, which is mostly what goes in and out). Also, eventually he will be building a SWING SET for the children! (Can't wait for this one!!) Grampy gave the kids a Wal-Mart gift card for Christmas right before we moved and we bought and shipped in our crate a few swings and all the bracketry we would need to assemble a swing set–the only thing we've been lacking is lumber. So that's on the agenda, too. Anyway, recently Aniga went out to purchase some big lumber. Usually things make it home by motorbike, but the size and weight of these was just too much for a piki-piki. We were all surprised and quite amused when THIS showed up in our front yard: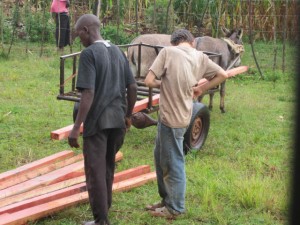 Yes, those are donkeys. Expect the unexpected!