Revised and updated
by Marc and Cynthia Carrier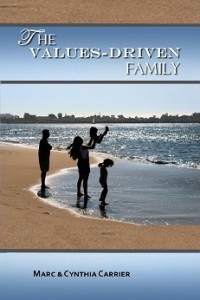 Do you want to maximize your effectiveness as a parent and experience God's best for your family?
The Values-Driven Family is the one resource you need–easy-to-read and apply!
Let's face it, we all get discouraged.  Sometimes it's stuff "out there," like a death in the family, a catastrophic event in the life of a neighbor or friend, or something similar. Though those things impact us, to be sure, it's harder when it's more personal…when it's our parenting.
Could be that teenager who's getting more and more withdrawn, or the toddler who just won't obey, the six year-old who's still wetting the bed, the chronic illness that's taking its toll on everyone, or any number of seemingly unending stresses common to our everyday.
We see what's going on and we wonder if we're to blame. The "voices" out there sometimes convince us that we are. If we only did things "just this way," or if we were more consistent, or if we made more time for our kids than we've managed to carve out of the constant hustle-and-bustle. We wonder about the outcome of the gargantuan effort, this investment of love and tears and prayer and faith. We hope for the best…but sometimes fear the worst.
The Values-Driven Family, revised and updated since its original publication in 2006, is designed to assist you in meeting the everyday challenges of parenting. It covers the basics, like positive and proactive child training, encouragement, and discipline. It also includes successful strategies for budgeting and scheduling or routine-building, since these are often areas of stress. Unique to VDF is the application of successful project management concepts to the "family project": risk management, team-building, and iterative parenting.
More than a cookie-cutter approach, The Values-Driven Family helps you to focus on the things that are of greatest value to God. It's full of encouragement, Biblical guidance, and practical tools for family-building that you won't find anywhere else!
View the Table of Contents and Preface.

Read excerpts:

Team Building: Eliminating Arguments and Anger

Improving the Mood: Dealing with Irritability and Frustration

Paperback, $10 
Ebook, $8.50