One of the most important elements of the successful homeschool is the library. Granted, not many homeschooling families have an actual "library," but most homeschoolers I know have lots of shelves in various parts of the house, chock full of excellent resources for developing minds.
Well-chosen books can feed a child's curiosity and introduce new topics of study, creating an enjoyable lifestyle of learning. Parents, reading books aloud with children and providing materials for independent perusal, are the gateway through which a child grows in knowledge. How do homeschooling families build a library that, on the one hand, makes best use of financial resources, and on the other hand, is comprehensive enough to provide a solid educational framework? I'd like to offer you some "from-the-trenches" suggestions.
Break it Down
As homeschoolers, we often feel we have to have it all when it comes to educational resources. We compare ourselves to the public school system and to other homeschoolers, and worry that a dearth of educational materials (especially books!) will negatively impact our children's academic success. Not to mention, some of us are simply bibliophiles at heart, and homeschooling is just a convenient excuse to feed a book addiction. So one of the first steps in building a homeschool library is to take a realistic look at what we need.
Reference Books
Some reference books are essential: a Bible, a dictionary, a thesaurus, a world atlas, and a concordance for Bible study.  Ideally, you would invest in sturdy editions that can withstand lots of use. Also consider a writer's guide: Writers INC (Sebranek, Meyer, and Kemper) is a comprehensive guide for younger students, or there's the standard Chicago Manual of Style for the mature writer. (And of course there are other titles commercially available.) As a Christian family, we have appreciated both Foxe's Book of Martyrs and Martyr's Mirror. These are essential stories of the faith that are both inspiring and challenging.
We have also been concerned that our family is well-versed in homemaking and homesteading skills as well as emergency preparedness, so several volumes on our shelf address these vital areas. Two books that we have found most helpful are The Encyclopedia of Country Living (Carla Emery) and The Self-Sufficient Life and How to Live it (John Seymour). We also have references on gardening, herbology, the slaughter and preservation of meat, home medicine, food preservation (canning, drying, and root cellaring), disaster preparedness, and solar cooking.
Encyclopedias, once a mainstay in the home library, seem to have faded from use, as old versions tend to be outdated and newer edition are often too expensive to be practical. However, a set of encyclopedias can replace many individual books and provide an overview of information on a variety of topics—perfect for the young learner! An older set of encyclopedias can often be found inexpensively online on Ebay or—if you're fortunate—at a local Good Will. Even if the information on some topics isn't current, there is much in the body of knowledge that doesn't change. Consider a set of encyclopedias for your home library, or (in the interest of space and finances), get a single volume such as the Scholastic Children's Encyclopedia or other, larger volumes that touch upon a number of topics. For example, we have The Encyclopedia of Science and Tell Me About History, both of which were purchased fairly inexpensively at Sam's Club.
Something from Each Subject Area
We strive to provide our children with a breadth of resources, going into depth only where there will be sustained interest or if the subject will likely appeal to more than one child in our family. As such, our home library includes a number and variety of young children's favorites for early reading and reading aloud.
For school-age children, we have a handful of books on key topics across the various subject areas. We introduce science topics with series like The Magic School Bus or Let's-Read-and-Find-Out Science. The If You…series by Scholastic (ex., If You Lived in Colonial Times, If You Traveled on the Underground Railroad, and If Your Name Was Changed at Ellis Island) is an engaging introduction to many historical periods and topics. Books like Hungry Planet and Material World (Menzel) address both geography and cultural issues. We even touch upon math topics with books like How Much is a Million?, How Many Ways Can you Cut a Pie, The Big Book of Brain Games, and so on. As a Christian family, we would also not be without various missionary stories and biographies. Our favorites include the YWAM International Adventures series and many historically-based fictional stories from Rod & Staff.
Mix it Up
Along with a wide variety of subject matter in our homeschool library, we strive to provide our children with a mix of genres: fiction, non-fiction, short stories, biographies, autobiographies, prose and poetry, legends and myths (though we are selective about these), fables, and so on. Though not all of the children appreciate all of the types of literature, there is enough for them to gain an appreciation of the various styles of writing.
If you have a number of children in various ages and stages, your library will probably, by default, be a bit larger. As much as you can, choose books that will appeal to children of many ages. Often books that the older children read independently, I will read aloud to the littles. Even if they can't read text, the little ones can (and do) look at pictures in the big kids' books and make up their own "stories." Be thoughtful and selective about what you add to your library, but don't forget that books are an integral part of lifelong learning. Personally, we do not have TV or video games, so for us, books are an alternative investment in creativity and activity. We want to be sure that there is "something for everyone.
Curriculum
Of course, no homeschool library is complete without curriculum—and this is often where an abundance of choices leads to parental angst. Do we need grammar and spelling and literature and writing curricula (and that for each grade level)? What about different children with different learning styles—what worked for one may not work for another. Our shelves can be full of curricula and our wallets quickly become empty! Curriculum may be a "necessary evil," but very often, less is more. So pray, research your options well, use what you have, take what you're given, and make use of free or inexpensive resources (online, library, etc.) as much as possible. Much more has been said on the subject of curriculum selection in previous newsletters, but this will have to suffice.
"Living Books"
As much as possible, stock your library with what Charlotte Mason referred to as "Living Books"—those that are engaging, informative, and not full of (as Ms. Mason so aptly put it), "twaddle." We try to make sure that the majority of the books in our library fit this description. We don't fill our children's minds overly much with fairy tales, cartoons, and stories just for stories' sake. Books are meant to teach, encourage, inspire, and instruct.
One resource I've found invaluable in selecting these types of books (whether to purchase or to get from the library) is Books Children Love: A Guide to the Best Children's Literature (Elizabeth Wilson).
Living books are perfect for a parent to read aloud to children, or are usually engaging enough to hold the interest of an independent reader. You can find such books in every subject area and on just about every topic imaginable! For more information about "living books" and the Charlotte Mason approach, you can visit sites like www.SimplyCharlotteMason.com.
Before you Buy…
Though it is important to have a good selection of books at home, it is vital that we not get "carried away" by what we think we need to have. Before you purchase books, take some time to assess the resource, consider its value to your homeschool, and think about whether or not its content is similar to something you may already have.
If it is a significant investment, ask friends for their opinion about it, or look for reviews online. I find Amazon.com reviews particularly helpful in deciding if a book will be right for us. Quite honestly, there are times when I've had my cart full books at Amazon, but after reading reviews on some of them, I've deleted quite a few. Every little bit helps on the budget, and there's no point in picking up books that aren't going to meet your family's goals and objectives.
Finally, before you pull the trigger on a purchase, wait. Don't be shy about praying about what you think you need. God supplies all our needs, but not all of our wants. Allow Him control of your situation, and you will often find that He works in unusual ways to bless you—even when it comes to populating your homeschool library
Remember, you don't have to buy every book that you think will be beneficial. Your local public library is an excellent resource—take advantage of it! This is a great way to get the benefits of literature without the expense, considering that often children will only want to read a book once or certain subjects are only of interest at certain times.
One of my kids' favorite days of the month is "Library Day!" because they get "new" books. They do nothing but read for days afterward, it seems. If you can't get to the library or don't use it, for one reason or another, you can still add some variety to your personal library and keep things fresh and interesting by organizing a "book swap" through your homeschool group or just with a friend or two. Or, consider rotating what's on your shelf by participating on sites like Paperback Book Swap. Finally, you can re-sell single books on Amazon.com or "lots" of books on Ebay, and purchase new books in the same way with the money you earn.
Free and Near-Free Library Additions
One way we've added to our library over the years is through Freecycle (www.freecycle.org). Sign up for your local group's list and watch for offers of books, or post an occasional request. Many years ago, a teacher happened to post an offer for many of the books from her personal collection, which contained both teacher reference items and children's books. I was like a kid in a candy store when she told me to peruse shelf after shelf in her classroom and just take what I wanted! Most of those volumes are still in our collection today.
We also ask for books as gifts for children's birthdays, or use gift cards to purchase books on our wish-list. Granted, we occasionally grapple with what to do with a gift book that isn't something that we prefer, but those instances are few and far between.
Finally, don't forget about books that are free in the public domain from electronic sources like Google books or www.gutenberg.org. You can also pick up many great resources on sites like www.HomeschoolFreebieoftheDay.com. Of course you can read them on the computer, but it's hard to know what you have, and reading on-screen can be irritating. Not only that, but computer time is often at a premium in a homeschooling household.
I usually purchase a bunch of plastic portfolios when they are on sale at the beginning of the school year, and store printed e-books in those. Other homeschool families keep them in small binders, or even secure the hole-punched pages with brads and duct-tape the "binding." Of course, these printed ebooks can be hard to label, may not store as neatly, and aren't as durable as bound books—but it is an inexpensive way to add to your homeschool library nonetheless.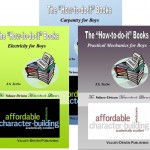 On a side note, we are excited to launch our "Values-Driven Homeschool Library," where we will be introducing public domain works formatted and perfect-bound at competitive prices for your homeschool library. We're starting with a series of "How to Do it" books for boys by J.S. Zerbe: Electricity, Carpentry, and Practical Mechanics. Our twelve year-old has loved these and they are full of practical information and inspiration for activity. Our desire is to offer durable paperback reprints of classic works at value prices for the homeschool family. We have a series for girls planned, as well as a host of other books. They can be purchased in single volumes or at a bargain, "bundle" price. Be sure to check out our first series, and keep your eyes peeled for additions in the future: www.ValuesDrivenFamily.com/homeschoollibrary.
Finally, don't forget about audio books, which you can also find free online at places like www.Librivox.org. You can save files to your computer or MP3 player, or even burn them to disk for physical storage in your library.
Remove Temptation
If you, like me, love books and are tempted in this area (to covet or to overspend), I humbly suggest removing as much of the temptation as possible. I no longer look at catalogs from Christian Book Distributors—I almost always throw them right in the garbage—because chances are, I'll see some good stuff in there. Likewise, I receive email newsletters from Library and Educational Services (www.libraryanded.com), which are tempting because they have such excellent deals (and great resources!), but I've gotten in the habit of deleting them without looking at them. If what we're using for curriculum is sufficient, I don't go looking. Last but not least, I avoid trips to the book store, and make myself walk by the book section at Good Will without a second glance.
Read the Books you Already Own
Think about how large your public library is. How many of those books have you read—even if you would find many of them interesting, helpful, or even "necessary"? Obviously, you probably haven't even picked up a fraction of them. The same can be true of your homeschool library.
In preparation for our move to Africa, we had a giant yard sale in September. Although we still have a large shelf of books left in our living room, I was (what I would consider) pretty merciless in culling through our selection. Of the many boxes of books that were set out, the majority were given away, not sold. Not only that, but there was a percentage of those that I'm not sure we ever even used. Granted, a lot had been given to us or had been purchased fairly inexpensively—but even so, it was a sobering exercise.
So don't add to your personal library for the sake of accumulation, thinking, "maybe we will benefit from this." Take, or purchase, only what you know you will use. And read—and re-read—what you already have on your shelf. Frankly, if you only had a Bible, it *might* be enough!
Conclusion
Prayerfully consider each addition to your library—because even if you "nickel and dime" adding to your collection, it is still a significant investment. Don't compare your home library to your public library, the CBD book catalog, the inventory at your local homeschool convention, or another family's bookshelves. Focus on the essential references and build a small selection of books that will appeal to various ages and stages. A homeschool library can be slowly built up, in various ways, for free or for cheap. But don't forget, even if you acquire a bunch of books for free, if you aren't actually using them, you could be withholding a blessing from another family who would benefit from the books as well.
Although it is important to have a collection of books for your homeschooling use, don't fail to address any spiritual issues that arise as a result. We're told not to love the world or anything in the world (1 John 2:15) and that a man's life does not consist of the abundance of his possessions (Luke 12:15). Further, consider the command not to covet (Exodus 20:17). Most importantly, remember that we're not to store up for ourselves treasures on earth, but rather concentrate our investment in the Kingdom of God and the work that He is doing (Matthew 6:19-21).
(Previously published Values-Driven newsletter. Click here for more information or to subscribe.)