Truth, Freedom, and Power
by Marc Carrier
Do you want to be the spark that starts a wildfire of Kingdom expansion? This is your opportunity!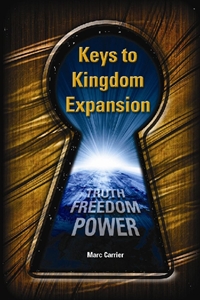 Time is short. We are living in the second-to-last scene of history and God is mobilizing an army of soldiers for one last burst of revival to gather in the harvest. The Great Commission is now within our reach. Here are the deployment orders and battle plans for bringing in the harvest.
To download the Kindle version for FREE, save the .PRC file below to your computer, then transfer it to your Kindle. OR, you may directly upload a Kindle version of Keys to Kingdom Expansion for $.99 at Amazon.com.
Click here for the Kindle file.
Click here to download your FREE .PDF/ebook OR audiobook version of Keys to Kingdom Expansion.