For Training New Shepherds of New Congregations
Fourth Edition
Rob Thiessen, Anne Thiessen, and George Patterson

Shepherd's Storybook presents the fast-paced account of a young congregation led by an apprentice shepherd. As they experience typical problems and attacks, they learn to deal with these from Bible stories. As you read the account and the same Bible stories, you will teach your church:
eight lessons on leading others to faith

seven lessons on obeying the commands of Jesus

fourteen lessons on practicing the one-another commands of the New Testament.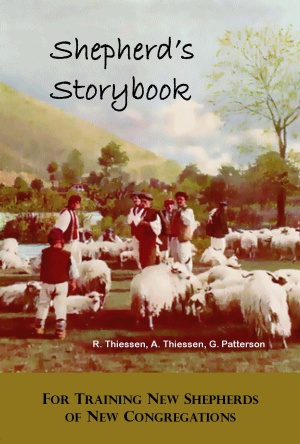 Shepherd's Storybook teaches the basics of evangelism, ministry training and starting new churches by using deceptively simple biblical stories. These stories deal with almost every common ministry situation imaginable,and effortlessly illustrate how we can put the powerful teachings of Jesus into practice.
Most books that attempt to teach principles of successful ministry are written like a classroom lecture or a textbook. But this is not how Jesus taught. In addition to giving his disciples basic, simple directions, Jesus told stories, lots of them! His stories are being repeated even today, and are still changing lives. 
This book will appeal to diverse readers of all ages and cultures. It was originally written for new believers on the mission field, but has a very wide appeal, and is being used in a number of different countries to teach the timeless New Testament principles of ministry.
About the authors: Robert and Anne Thiessen serve as missionaries in southern Mexico, focusing on training local believers in evangelism, pastoral ministry and church planting. They have seen many new churches planted, and this book grows out of their practical experience, as well as the simple, reproducible missions principles taught by George Patterson. George Patterson has served as a field missionary in Honduras and a missions professor at Western Seminary in Portland, Oregon. He currently maintains a busy schedule of consulting, writing, and mentoring missionaries and church planters worldwide.

This book is available for FREE as an ebook at www.paul-timothy.net (direct link is http://paul-timothy.net/html/storybook.html).
Shepherd's Storybook paperback

$5.00