Creating a Joyful Home Atmosphere
by Cynthia Carrier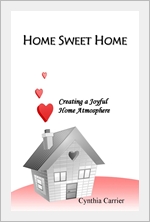 It's been said that "the woman sets the tone for the home." Yet all too often, we Moms find our homes full of busyness, strife, and even anger. It can be difficult to sustain a joyful and peaceful home atmosphere that is conducive to maintaining close family ties, discipling our children in the ways of the Lord, and even successfully homeschooling.
Cindy Carrier shares some of the secrets to maintaining a home atmosphere that glorifies God. This goes beyond the practical; it isn't "five steps," "four P's," or some fancy acronym to help you  remember what to do. Instead, you'll get right to the heart of the issues that hinder you from experiencing God's best in your home.
"Home Sweet Home" is currently available in paperback or Kindle formats.

Chapter 1: Cleaning the House–You'll find out how to "clean the house," spiritually speaking, in order to allow the Holy Spirit to function more fully in and through you. This is key to maintaining a home atmosphere that God desires.
Chapter 2: Locking the Door–Destroy the strongholds of the enemy and "lock the door" to his work. Walk in the freedom given to you through Jesus Christ and see the effects on your home's atmosphere!
Chapter 3: Spiritual Home Management–Learn how to stand firm in your spiritual freedom and walk in the power of the Holy Spirit to live a life marked by the fruit of the Spirit. This will revolutionize your home life.
Chapter 4: Practical Suggestions–Finally, now that you've addressed your "being," you can take a look at the practical "doings" of creating and maintaining a more joyful home atmosphere. We'll look at things like attitudes, expectations, "triggers," communication, and more.
See what others are saying about Home Sweet Home:
"… I ordered this product right away. Cindy gets to the heart of the matter and just lays the truth out, and you just don't find this honest, un-sugar coated truthfulness out there. People are afraid to talk about their struggles because they think they are the only one, but Cindy tells you like I think most of us struggle with in our everyday life"  (Jenny S.)
"You hit a sore spot with me, or rather one that that God was preparing me to hear. Your discussion about excuses for yelling really made me think about my childhood and all my "excuses" I've used. I long to put what was discussed into practice…" (Amy)
"I was one of those who was waiting for the practical things "to do" but was blessed by the first three [sections] as these were things I had been taught before in our church. I just had never thought to apply those principles to the home atmosphere. The practical things were also a good reminder of some things I knew and other things I had not thought of before. I really liked the idea of reboot. And some of the analogies shared ministered to me as well. … I think the things you shared are crucial to changing the atmosphere in our homes." (Debbie)
Read an excerpt:
Home Sweet Home paperback

$9.50
To purchase the Kindle version, click here.