It's been quiet on our blog for some time, and not because our family is not busy. I'm sure many of you can relate. BUT, I had to break the silence to announce a new publication that I know will bless many of you, and I hope you will take advantage of a brief window of time to get it FREE on Kindle.
About the book: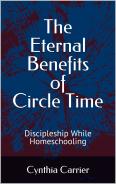 Add one simple element to your daily routine—Circle Time—and effectively promote a more joyful home atmosphere; meet more of your academic, spiritual, and character development goals for your children; and encourage family relationships in a positive way. Author Cynthia Carrier offers practical information and advice on just what Circle Time is, how to customize the components of your Circle Time to meet your family's objectives, and how to deal with difficulties and distractions during Circle Time. For the Carrier family, Circle Time has been one of the most influential habits of their 15-plus years of homeschooling, particularly as it has helped them meet their family goals of discipleship in the Christian faith and character development. This short book will leave you with a wealth of ideas and encouragement to help you start your own Circle Time and have a similar eternal impact on your family.
Kindle edition: FREE from June 5, 2020 (12 midnight Pacific time) until June 9, 2020 (12 midnight Pacific time), then $1.49.
Paperback is $4.50 on Amazon.com (wish it could be cheaper but their royalty structure doesn't permit the lowest desired price. Get it on our Website for $3.50 instead!).
Get it on Amazon or buy it from Values-Driven.