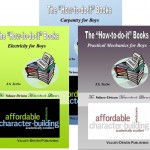 The How-to-do-it series of books for boys, by J.S. Zerbe, is an invaluable reference for curious youth. With these three books, your boy will have a solid foundation of both knowledge and skills in the essential areas of carpentry, practical mechanics, and electricity.
Available as single titles or in a discounted bundle.

The series includes:
Practical Mechanics for Boys: This book  takes the beginner through a comprehensive series of practical shop work, in which the uses of tools, and the structure and handling of shop machinery are set forth: how they are utilized to perform the work, and the manner in which all dimensional work is carried out. Every subject is illustrated, and model building explained.  
$8.50   Click to view an excerpt

Carpentry for Boys: A book which treats, in a most practical and fascinating manner, all subjects pertaining to the "King of Trades." Carpentry for Boys addresses the care and use of tools; drawing, designing, and the laying out of work; the principles involved in the building of various kinds of structures; and the rudiments of architecture. It contains over 250 illustrations made especially for this work, and includes also a complete glossary of the technical terms used in the art. The most comprehensive volume on this subject ever published for boys. $8.50  Click to view an excerpt

Electricity for Boys: The author has adopted the unique plan of setting forth the fundamental principles in each phase of the science, and practically applying the work in the successive stages. It shows how the knowledge has been developed, and the reasons for the various phenomena, without using technical words so as to bring it within the compass of every boy.  $8.50  Click to view an excerpt


The "How-to-Do-it" three-book Bundle
Practical Mechanics for Boys, Carpentry for Boys, and Electricity for Boys
(View excerpts under individual titles above, if desired)
$19.50