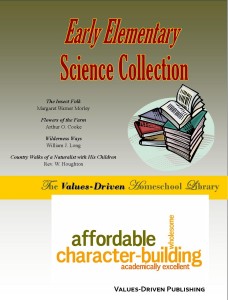 Whether you're a Charlotte Mason, Classical, Eclectic, or "other" type of homeschooler, you'll fall in love with our Early Elementary Science Collection. Perfect for individual enjoyment or reading aloud as a group, this collection of four engaging, story-style science readers will touch your heart with the wonder of God's creation as it teaches science facts. It will also inspire you to get out there on a nature walk and see what you can see. Even the illustrations in these texts will inspire you–maybe for some science notebooking, perhaps?
Included in a single volume are four classic titles:
The Insect Folk, by Margaret Warner Morley: written in a delightful conversational style and intricately illustrated, you'll experience the wonder of the world of insects that so few of us notice.
Flowers of the Farm, by Arthur O. Cooke: Take a hike around Willow Farm and notice of all the wildflowers you may not have seen before! Includes detailed illustrations.
Wilderness Ways, by William J. Long: These sketches of wild creatures will reveal the character and habits of many wilderness animals in an exciting and engaging manner.
Country Walks of a Naturalist with His Children, by Rev. W. Houghton: As a father and his children walk around their neighborhood and learn about the natural world all around them, your children will likewise be encouraged to explore and learn about their own environments.The conversations and  illustrations in Country Walks will spark interest in nature's wonders and creativity in expression.
Our Early Elementary Science Collection is a hefty 240 pages in a generously-sized, 8-1/2″ x 11″ paperback. And it's a value at only $14.00!
To see an excerpt from the collection, click here.

Early Elementary Science Collection
240-page, paperback anthology

$14.00