Simple, practical, and powerful tools for expanding the Kingdom of God
The Gospel according to Jesus Christ
Making disciples who make disciples
Planting home fellowships
Reaching the unreached
Ministering to Muslims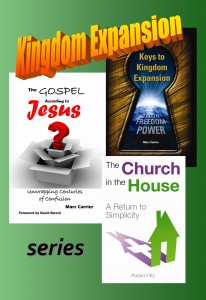 In The Kingdom Expansion Series, you will see many vivid illustrations and stories as well as common sense examples that are designed to be learned, followed, and passed on to successive generations of disciples. The materials are simple, concise and meaningful. The teaching is designed to be very easy to learn, apply, and teach to the next generation.
In the first volume, The Gospel According to Jesus, you will be presented with the straightforward Gospel taught by Jesus and the apostles and lived out by the early church. Learn first hand the beliefs that radically transformed generations of Christ's followers, the men and women who turned the world upside down.
In the second volume, Keys to Kingdom Expansion, you will glean information and inspiration on how you personally can contribute to fulfilling the Great Commission in this generation. You will be challenged and mobilized to surrender everything to Christ, and get out there and make disciples. Tools for going through a spiritual inventory are also provided to lead you to absolute freedom from sin. Yes, you will see that freedom from sin's power has already been given to us through Christ!
The third volume, The Church in the House, will show you the New Testament practice of home fellowship. You will learn the biblical, practical, and prophetic aspects of returning to the simplicity of organic church practices.
The Kingdom Expansion Series also has two bonus features: the first will teach you how to plant fellowships in unreached areas the way Jesus did it, as presented in Luke Chapter 10. The second will show you how to easily present Christ to Muslims using the Koran.
 * ALSO AVAILABLE IN SWAHILI AND SPANISH *
Kingdom Expansion Series paperback

$4.00



KINDLE EDITION (external link to Amazon.com)