When we first moved to Kenya, one of our greatest challenges was adapting our appetites to the food that was available locally. (There's a whole chapter dedicated to this in my first-year memoir, The Kingdom of God is not About Eating and Drinking.) Though contentment with our diet was difficult during year one, it was somehow achieved during year two, although we still did make some concessions. Items you might not find on our neighbors' tables would include spaghetti; Ramen noodles; chicken, beef, or pork a couple of times per week; and (occasionally) oatmeal for breakfast or pizza for supper. Eventually, we conceded to purchasing Ghee (clarified butter) during our trips to Kitale, as a healthier replacement for the yellow "cooking fat" and margarine available locally. We felt OK about "extras" like vanilla and vinegar, also only available in town. All in all, we were pretty pleased with our menus, the resulting budget, and achieving that sometimes-elusive "balance" that being a mzungu in Africa (and particularly, a Kingdom Christian in Africa) seems to require.
Somehow, during the past six months or so, we've begun to feel like some of what we've allowed/excused in our eating habits has crossed the fine line into over-indulgence. I'm not sure why or how that happened. It may have to do with the fact that there are now two new "Super Stores" in Kitale that cater to wazungu like us. And if it's available somewhat locally, then it must be OK, right? At least, that's how we ended up reasoning. Also, in hosting a steady stream of visitors earlier in the year (and wanting to accommodate their American appetites and show them hospitality that they would appreciate), perhaps our appetites learned to re-appreciate a more expanded palate? But, we were left with the nagging feeling that we've made concessions that perhaps were not best for us, practically or spiritually. I can never read Jesus' teachings in Luke 6 (verses 24-25) without some serious self-examination:
But woe to you who are rich, for you are receiving your comfort in full. Woe to you who are well-fed now, for you shall be hungry…
We have the option to eat what and how we want because we are rich. Perhaps not any longer by American standards, but certainly in comparison to our neighbors here. And we have tried very hard to live in light of that reality and walk in obedience to Jesus. It is, however, a continual challenge and we feel that the balance has swung too far in a direction we don't care to go. So we're making some changes once again…
As a family, we have decided to take a 30-day challenge: eat locally. And by "locally," I mean what is available in the half-dozen shops in our area–not in the large village market, and definitely NOT the "big city" of Kitale.  We talked about what that would mean, the sacrifices we would need to make…and wondered, could we really do it? I'll admit, I struggled with making the decision, feeling like we're sacrificing good health. Because frankly, some of our neighbors' health struggles that we commonly see in the clinic are caused by nutritional deficiencies, and certainly their immune response to illness is often compromised by the same. So, I asked myself, if we eat more like the locals do, will it be harmful to our health, and (if that is the case) is it really good stewardship to move in that direction? However, I do believe that if we are striving to be good stewards and live Christ's Kingdom teachings to the best of our abilities, He will certainly provide us with "daily bread" that will meet all our needs.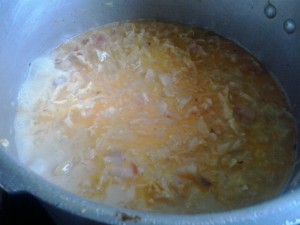 So here's what "eating locally" means: No beef. If we're having meat, it's going to be a chicken we slaughter ourselves. Menu staples are rice, potatoes, cabbage, milk (1-2 L per day), eggs, maize, and beans. Fruits in-season are bananas and avocadoes, though they will be "out of season" for at least a couple of months here-and-there. We also score yellow cherries once in a while. Local shops sell flour, baking powder, salt, margarine, and cooking fat. One of our neighbors just started a little business of roasting peanuts–that's good protein we would not otherwise have, and it supports a brother in our fellowship (win-win!). Currently we are eating fresh corn from the garden (though it will soon be dry enough to shell), and we also grow our own sukuma (kale), spinach, onions, and pumpkins (that's Micah's crop and we pay him 10-20 shillings per pumpkin, which to  a seven year-old is very exciting!). 
While we've agreed that we want to only eat what is available in our local shops, we are making a once-weekly trip to the village market to buy the bulk of those items, since economically and practically it makes more sense. For example, we can buy margarine at the shops here, but only in the smallest of quantities, so we'll be getting a larger size at the market. We can get potatoes and cabbages locally, but not always in quantities necessary for the size of our family, and certainly the potatoes and cabbages are larger and "nicer" at the market. So that's one concession we're making, but I think it's reasonable. We're also adding three items from the market that are not generally available locally: garlic, tomatoes, and green peppers–in the interest of health.
Based on what we have locally available, our menu options are fewer and not-so-varied, but certainly this is good for our appetites. My only real "complaint" (and I'm certainly not complaining) is that our menu is pretty high on the carbohydrates. But maybe that's OK and it's just my American sensibilities that are offended by the perceived lack of "balance" in our diet. There's probably more balance than I think, and perhaps God is giving us just what we need. All in the name of learning contentment with what He provides. All in all, I definitely think this is do-able, and very good for our family.
Since we have eight children (some with rather entrenched preferences in regard to food), we're trying to move forward with everyone on board, and we want there to be agreement that this a good thing for all of us, both practically and spiritually. While some are more enthusiastic than others, we've all agreed to local-food-only on the basis of a "thirty day challenge." We've just finished the first week, and we'll evaluate in a few more weeks to see what everyone thinks about continuing. Personally, Marc and I hope that everyone will see that it's a good thing and will be happy to make more permanent adjustments. On the other hand, perhaps some changes will need to be made. We'll see…and we'll keep you posted!