This Thursday we'll be hosting our first community children's clinic here in our village. As I said previously, one of the most common (yet most preventable/treatable) medical problems I see among the children here is intestinal worms, so we're starting small and just addressing this one need. I hope to expand to be able to offer other treatments and services in the future…but we'll see how this goes first!
Rose, who has been faithfully attending our fellowship for some time and is a community social worker, did the leg work in setting up this event, as my Swahili is currently insufficient to address the village chief, arrange a venue, and communicate throughout the village just exactly what is going on. I praise God for her and her willingness to help! She has organized for our first clinic to begin at 9 AM on Thursday at the church across the street from where we live.  And I was excited to have the boys come back from town today with our supplies!: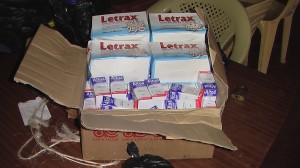 This is 100 liquid doses and 100 tablet doses. To serve 200 children in our community ended up costing only about $57 (5000 KSH) because our chemist passed along a bulk purchase discounted price (yeah!!). We still have some money in the budget and Rose is busy scheduling another clinic that will be in our village center. (That should attract a much larger crowd). If funds allow, we're going to do another in a neighboring village.
Excited for Thursday, and blessed to see how God has provided for this outreach. I had hoped to be able to post pics of the actual clinic but I probably won't be able to–I don't want to bring our big digital camera, as I think it will attract w-a-a-y too much attention, and Marc will be away visiting a house church group in West Pokot (quite a trip from here) so his camera phone will also be out of commission. For those of you who gave so generously to this project, though, I hope you know how much you are blessing children in need–even from half-way around the world! 🙂