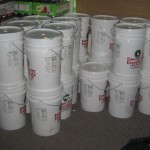 Early last month, my husband dropped a bombshell on me:
"I want you to stop grocery shopping until we leave in February."
Ummm…no. Can't do that. Are you crazy?!
Well, that's what I thought…not what I said. I heard him out.
His concern is that once we move to Africa, it's going to be very shocking for all of us (especially the children) to go from our rather "abundant" diet to a much simpler menu. (Think ugali, which my twelve year-old still grimaces about because "they don't even put a little bit of salt in it! It's just corn that has the texture of clay!") Not only that, we do have a ton of food in storage, plus the garden, and…what are we going to do with it if we don't use it up before we move? Finally, wouldn't it be great to save up the extra money from the food budget and use it to pay for our airfare, or to fund additional missions work?
All good points, I had to concede. Still, I couldn't envision spending only $20 a month on groceries. What about milk? Butter? Cheese? (I love cheese!) We can't even buy diapers (though I use cloth sometimes), household cleaners, and hygiene products for $20 a month, never mind some of those things we would need to supplement our food storage items.
So, after discussing it calmly and rationally, I realized that Marc meant $20 on food only. So the other things would be additional expenses. Whew! Maybe we can do it…
It's been about a month now of eating out of storage and the garden. I spent about $5, on a pound of butter and a gallon of milk. Granted, I still had some butter in the freezer, and now I don't. So we'll see how our budget looks in the coming months as I use up a lot of what I have. But you must understand how much we have! We don't actually keep our food stores in our 1400 SF home; there's no room. We keep it in a back bedroom at my father-in-law's house next door. Here's just one photo:
And that doesn't show the utility shelf of home-canned and commercially canned goods–also quite an ample supply. We have a large family and wanted to have an "emergency" store of food–and even at the recommended 30-day supply, that's a lot of food! So we had purchased a bunch of buckets from Emergency Essentials quite a while back when they were running a sale. We were using them a bit for regular food preparation, but not much. Well, now is the time to use it up as much as possible! Pictured is rice, wheat, pinto beans, black beans, and oats. Our canned and other dry goods include tuna fish, spam (yuck, but the kids like it, and we wanted some non-perishable protein on the shelf!), canned chicken breast, salmon, some fruits, beans, yams, pickles, tomato juice, yeast, powdered milk, and some pasta. And I'm sure that's not a complete list. From the garden we have the usual crop, which we're eating fresh and canning or freezing as well.
Given the size of our food storage, the $20 per month grocery challenge probably isn't "do-able" for the average family. But we're going to see how we do until February. I'd like to post some of the recipes I've made but that'll have to wait for another day. So far, everyone has been happy with the meals (except for one soup, which had too much spice for the children's liking). And I haven't even resorted to ugali!