I'll admit, I haven't always enjoyed village life. At first, I struggled with the loss of my independence, having no car and not having much at all to do, particularly with the children (I mean, after all our "work" was done). I liked being able to jump in the car for an occasional outing to the local museums or parks. I certainly missed the local library. And I even missed grocery shopping and running errands, tedious as both could be with a bunch of children in tow. Although I had always been busy at home, village life took it to a whole new level. That was an admitted adjustment. But once I got used to it, I found a great deal of contentment in my circumstances and in my role as wife, homeschooling mom, and behind-the-scenes missionary.
Selling most of our possessions so that we could move to Kenya left us living a very simple life at first. That also took some getting used to. But by the time our small shipping crate finally came, several months after our arrival, I found that I didn't really miss much of what was inside. Except the books, of course. I definitely appreciated having our small library once again, and certainly the added kitchenware was a blessing—even the Bosch mixer—but I had discovered that most of what I had considered "indispensable," wasn't. Village life…simple life…was growing on me.
Then there is the small-town feel of the village. I've always enjoyed rural living, but village life in Africa when you're a mzungu is challenging. I can't say I've ever been a fan of the village gossip, but it has been nice to know our neighbors and be able to keep abreast of what's going on just by asking some questions of a few select people. At first we were an oddity among our neighbors and it seemed like half the village lived at our gate and gawked at us every time we stepped out the door. But, as with the other things, that too passed and now, though we'll always be the wazungu, we're left more or less to ourselves.
Since we've gotten a car and been able go into town a little more often, and especially since the coming of Nakumatt (*almost* a Superstore) about two years ago, village life has been a lot more bearable. But having more "things" available in town and easy access to them, has reminded me how much pull the world has. I have to remind myself that I don't need more gadgets, the kids don't need more toys, and our simple village market meals really are just fine, for the most part.
Recently we spent a couple weeks in Jinja, the second largest city in Uganda. Although it didn't boast a "Superstore," there were a lot of nice mzungu-style restaurants and a cheap-enough swimming resort along the Nile River that we got to enjoy a couple of times. Our days were spent in a very nice house on a YWAM base, where I did appreciate the convenience of a flushing toilet. But after all that, I have to say I was ready to go home…back to the village. I actually missed my choo (outdoor potty) because I was reminded that I did not miss cleaning toilets. I didn't miss vacuuming carpets, either. I also appreciated anew the modesty of the village women.
One thing I found interesting was the YWAM dining hall. They serve three meals a day and it didn't take us long to figure out that they don't vary much from day to day. Breakfast was always a peanut butter sandwich with chai and a banana. Lunch was typically posho (boiled cornmeal, which we call ugali in Kenya) with a side of beans and plain pasta or potatoes. Supper was rice with beans, or rice with cowpeas, or (once a week) rice with meat, and a side of cabbage or sukuma (kale). Although breakfast got kind of boring, it was nutritious enough and…we got used to it. Lunch had a rather unusual combination of items (us not being used to eating beans or particularly pasta with our posho), but that, too, was filling and…we got used to it. Although in the village I've weaned us down to some simple meal options, we still have some variety when we go into town once a week or so, and we certainly didn't eat the same thing every day. But I left the "big city" with a greater contentment about simple and repetitive meals, which I think was a good lesson for all of us.
We also picked up a new routine in Uganda. At the dining hall, they have a "bring your own" method of serving food, wherein every guest carries in their own plate and fork. There were basins set up just outside the dining hall with soapy water and rinsing water, where everyone exiting was responsible for washing their own plate and utensil. It took just a few minutes, but it amazed me that I never thought of doing such a thing at home. With dishes for 10 or more people, plus meal prep pots and utensils, washing dishes is a twice-daily chore that two children share and no one likes very much…it's one of the few tasks that inspires grumbling at our house. We decided to set up basins in the sink so that everyone could wash their personal dishes after each meal, leaving only the meal prep dishes for chore time. With the reduction in overall dish-washing, we can assign only one person to the job, freeing up the second person for other tasks that might get neglected, and easing up the load over all. So far, I'm liking it!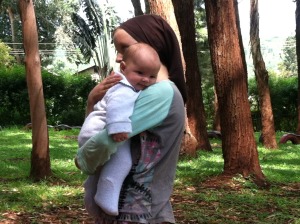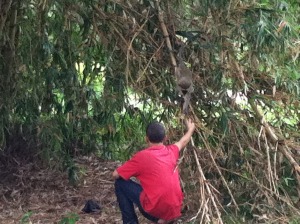 We went to Uganda to get our passports stamped, now that our 2-year work permits are approved. In Uganda, they actually keep your passports for this process, which left us stranded in-country until all was completed. It turned out to be a nice vacation for all of us, plus Marc and Nashon (our Kenyan brother) went out on some missions and looked for a future residence for our family.
Our plan is to continue to support the Kenya mission but share time with launching a Uganda mission. We'll see how the Lord directs these transitions. For now, our two weeks away were very encouraging. Our fellowship's deacon, Mzee Timothy, did an awesome job managing our food program for malnourished children and the medical needs in the community that the ministry supports, and overseeing the Sunday meeting. Our brother Lazarus, an overseer of our Bidii fellowship and an evangelist and teacher, went out regularly with one or two of the wazee (elders) from our Saboti church. Together, they continued to encourage and teach at the various fellowships and make sure that everything was running smoothly in our absence. A great test, which everyone passed with flying colors! God is good.