While I did my morning's wash, here's what was going on around me:
Aniga came over early, and he, Marc, and Isaiah started on building the swing set. After leaving instructions for the completion of the project, Marc left for a meeting with a local pastor.
Here are Isaiah and Aniga working on the build: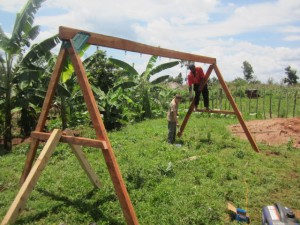 While I was busy with laundry, Rebekah was taking care of a few things in the house: dishes, baby-watching, and filling up the drinking water: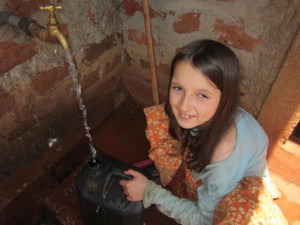 Hannah helped Rebekah with the dishes and baby-watching, then she carried swings out to the guys so they'd be ready to hang when the time came: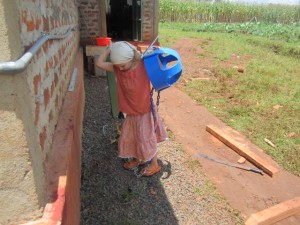 Micah and Jubilee were out digging "bore holes" in the sand pile–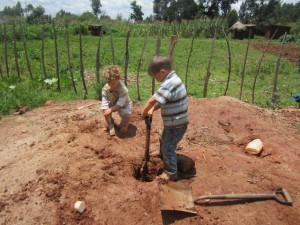 Deborah (my right-hand gal) helped me with the laundry and then hit the books.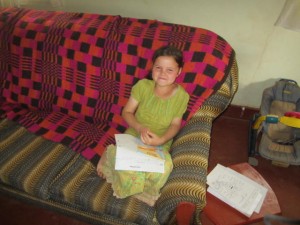 Jonah got to take it easy a bit…he's not been feeling well. He did some language arts and then this: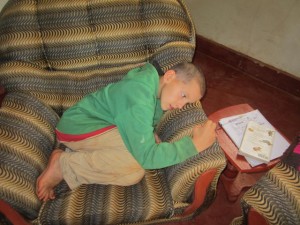 Amidst all these "goings-on," we had a guest visiting. Gilbert has been attending our house church and is a pretty good translator. He's had some health problems and hasn't been working his farm, so he's had financial struggles as well. Unfortunately, finding work that he can do is difficult. One thing we did was to have him go through a "Beginning Horticulture" course (though we still have to review all of his questions-and-answers); eventually, Kingdom Driven Ministries will provide him with a certificate of completion. Now, we've decided to teach him how to use the computer. Surprising how difficult this is when you don't grow up at all familiar with the technology (like the average American). Here is Gilbert hard at work, copying the Sermon on the Mount in Microsoft Word: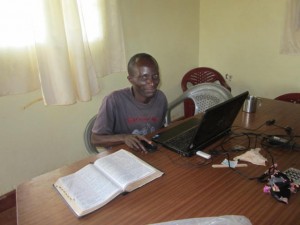 Enoch, though being "watched" by his two older sisters, still eventually managed to get into the dishes they were doing: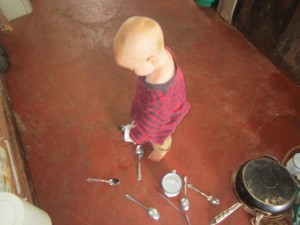 By this time, the first swing was up–Enoch laughed and smiled through his whole "maiden voyage":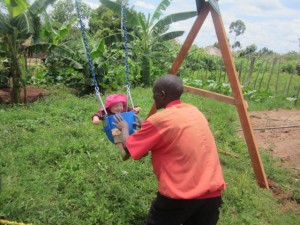 Lunch time rolled around, and no one wanted to eat. Here's what they did instead: