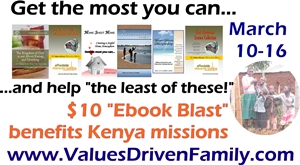 Unless you're new to Values-Driven, you probably know that we (the Carriers) have been on the mission field in Kenya with our family of 10 for almost two years. We're here to share the Gospel of the Kingdom, encourage and disciple believers in the house churches that are planted, and serve "the least of these" in our community by assisting with food, clothing, and medical needs as well as financial gifts to jump-start sustainable businesses.  (For more information on our work here, visit www.KingdomDriven.org.)
Our two year work permit (visa) is almost due for renewal. What does this mean? A renewal fee of about $6,500! Yes, we've been saving for it…but a lot of our savings was used up when we decided that the time had come to purchase a much-needed mission and family vehicle (which also doubles as our village's ambulance).  So we're scrambling to get the funding we need to keep us in-country for another two years.
YOU can help–and benefit in the process!
We've decided to offer 7 of our ebooks for an incredibly low price–only $10 for a set valued at $76.90 (many of the titles not currently offered in digital format). That's about 85% off!

Here's what you'll receive (click titles to go to the product pages for more information):
Plus, two titles from our Homeschool Library:
The Easiest Way in Housekeeping and Cooking by Helen Campbell, and
The Early Elementary Science Collection

AND, you'll receive the following gifts from our generous partners:
Pioneer Days lapbook
from A Journey Through Learning
Value: $13
Enjoy this Pioneer Days lapbook, an insightful exploration (for Grades 2-7) of the American pioneers' push westward, as a gift from the team of A Journey Through Learning (you know their fun and engaging activity book on many subjects), and TruthQuest History (which probes for the spiritual insights at the root of history, deeper than the human events).  For similar materials, visit  www.TruthQuestHistory.com or www.AJourneyThroughLearning.com.

Leaves of Life – Daily Copywork Through the Year
Value:  $5
 This 401 page ebook contains a whole year's worth of copywork selections.  Older children can choose several selections to copy each day, while younger children can choose one selection to copy.  Copywork writing pages are included at the end of the ebook for you to use if you wish.
The Homeschool Mom's Rescue Set

from Felice Gerwitz and
Media Angels
Value: $35
Enjoy three full-length audio seminars and an inspirational music selection from Media Angels and Ultimate Homeschool Radio Network (
www.UltimateRadioShow.com
). Felice Gerwitz shares some practical tips with busy moms in
Dinner is on the Table
, and veteran homeschooling mom Meredith Curtis encourages other moms on the journey with
The Seven R's of Homeschooling
. As a bonus, you'll receive
Parents of Special Needs Children Need R & R
by Tara Jenner.
(Note: These downloads are accessible from an external Web site. Your sale links will take you directly to the download page where the files are hosted.)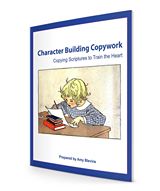 Character Building Copywork: Copying Scriptures to Train the Heart

from Amy Blevins at
Homeschool Encouragement
Value: $4.99
Character Building Copywork
includes 25 Scriptures for copywork with manuscript lines and regular notebook lines. Each page includes a small image to color at the end of each page as a reward for the motivated student. The Bible provides the framework as you consider with your child what it means to be "of good character." A free bonus for our Ebook Blast,
Character Building Copywork
is regularly available at Homeschool Encouragement (
http://homeschoolencouragement.com/products
) for $4.99.
Copying the Poems: The Voice of Spring
from Bogart Family Resources
Value: $4.95
Copying the Poems: The Voice of Spring – HWT 3-A includes the complete text of three well-known poems and four scripture passages that focus the heart and mind on the delight that God brings to the hearts of man-kind when new life springs forth from the earth He has created. Includes 25 lessons with three full poems and KJV Bible verses in HWT-style cursive.  Features regular 3/16″, two-line style; line-by-line models; pictures to color; and room for drawing. This and additional Bogart Family Resource copywork titles are available in HWT, ZB, DN, and GDI penmanship styles through CurrClick.
A-Z Christian Family Values
from LightHome Publications
Value: $8.80
This book contains penmanship copy work about what it means to be a family, with one page for each letter of the alphabet. It includes relevant photos of a family to help inspire your children, along with paintings by famous artists with discussion of the family values each painting portrays or inspires, plus observations about the painting to help children develop art sense, and an outline of the painting for children to color if they desire.
Our penmanship books inspire children and motivate them to practice handwriting every day. In fact, parents tell us that their children eagerly ask for our penmanship first thing in the morning! We also offer art & nature unit studies, arts & crafts, gentle and inspiring music, creative writing, preschool arithmetic, and more. Visit us at www.LightHome.net.


Sound good, but prefer print? How about adding some paperbacks to your cart at an amazing 50% off? Just browse our titles, add selections to your cart, and automatically receive 50% off  of (almost) every title we offer in print! (Excludes only The Secret of the Strength and Hyena, King Lion, and the Prince. This offer also only valid from March 10-16, 2014.)

ALL for only $10, and only until March 16, 2014!
Thank you for your interest, but this sale has expired.
$10.00

Except where indicated above, you will receive one email with encrypted links that will allow you to easily download all of your books and the freebies. The links will be active for approximately 30 days.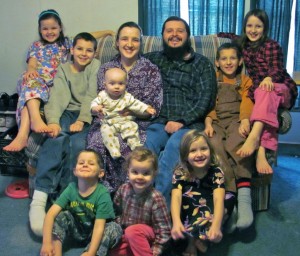 Many thanks, and blessings from
the Carrier Family