Yesterday Silas decided that we needed to board his new punda (donkeys) for the night, since he was out late with them and didn't have time to bring them all the way to his own shamba. It made for an interesting night, as our new visitors attracted several wild dogs, who barked back and forth over the fence with our dog for quite a long time. (Or maybe it just seemed like a long time because I wanted to be sleeping and wasn't.)
For some reason I ended up getting up much earlier than I wanted (not quite 6:00) and went into the kitchen to make my coffee. Unfortunately, we were out, so I settled for making myself hot chocolate. I sat down for some quiet time, then Jubilee (age 4, almost always the first one up) joined me on the couch. We went into the kitchen and started preparing a pineapple, scrambling some eggs, and putting bread in the oven for toast. Marc was up early, too, and he was going off to teach his weekly Kingdom Discipleship class, so I wanted to get breakfast ready in time for him to leave.
Deborah and Enoch went off to Silas's shop to get our morning milk for tea, Marc and some of the kids went out chain the dog, open up the chicken coop, and get all the critters fed. Rebekah set the table, and (as is typical) Silas showed up just as breakfast hit the table. Even though it is our regular house-cleaning day (when most everything around the house gets done), Isaiah talked me into letting him go with Silas to run the punda on an errand. I asked how long he'd be gone ("an hour," which in Africa is probably more like three) and gave him permission to go, provided he'd be ready to work at home when he returned. He put his scrambled eggs in a bag and ran down the path after the donkeys and cart.
The rest of us ate, cleaned up the mess, and sat down for morning devotions. After our family time, I mobilized the troops for work: Jonah and Rebekah cleared out the sitting room to wash the floor, Deborah stacked the dining chairs and prepared to do the floor in our eat-in area, Hannah started on the bathroom, and Micah and Jubilee tag-teamed on the dishes. I brought our small throw-rugs from the doorways outside and washed them, then brought out the large living room rug to beat and wash (using Isiaah's pressure washer, of course!).  While I was outside, our neighbor ("Auntie Jane") passed by and Enoch caught up with her at the gate. He LOVES Auntie Jane and he always makes her smile–especially now that he's started saying her name (though more like, "Ah Jay!") and asking, "Me go Ah Jay?" So of course he asked to go with her and she happily obliged. I figured he'd end up having chai with Nya Nya ("Grandmother," Jane's mother), and it would give me some good time to work without constantly looking around to see what the little man was up to.
Once I came in the floors all looked clean and dry, so I had the kids put everything back where it belonged and put several of them to work again on clearing out the veranda for a sweep and wash. Isaiah showed up and I had him empty out the kitchen so I could wash the floor in there (but keep in mind, clean is relative here in Kenya!). I started making some dough for mandazi (sort of a non-sweet donut that is commonly eaten for breakfast here). I needed to make a big batch for our house church meeting tomorrow morning. We used to have a fellowship meal on Saturday nights, but recently switched to early morning chai and mandazi on Sunday. Just as I started frying the first pan full, Silas showed up with a young lady in need of medical attention for her foot.
Just about everyone goes barefoot here, even when they shouldn't (like when milking cows and standing in cow dung), so foot problems are very common. This girl had one toe nail almost coming off, with blood and swelling. I cleaned it up but knew she'd need some antibiotics as well. While I worked, I asked Isaiah to call our local chemist, who is an absolute God-send. She knew exactly what the problem was and could give me what I needed, but she wouldn't be at her shop in town for about another hour (which was probably more like two or three; remember–this is Africa). I asked Isaiah if he wanted to go into town or have her ship it by piki piki when she had it available, but he was more than happy to get out of housework and run an errand for me. I asked the young lady to return at 3 PM, thinking that would give us way more than enough time to get what we needed for her. I made Isaiah a short market list and he went off with Jonah, who by now had finished his part of the work on the veranda. Turned out that everyone was done with their morning's work and were begging to go to Auntie Jane's, too. The only one staying home was Rebekah, who was anxious to read a book on the Kindle.
I continued to make the mandazi, thankful for the unexpected quiet.  Jubilee returned home once to fetch a plastic bag; Auntie Jane wanted to send me some sweet potatoes. She also reported that everyone was enjoying a snack of roasted maize. By now it was just about 11:30 and I had about half of the mandazi done. Rebekah was asking where everyone went (a sure sign she was bored). I asked if she wanted to take over with the mandazi, and she was happily agreed. By lunch time, she was finished and our count on the mandazi approached 100, which should be just about enough: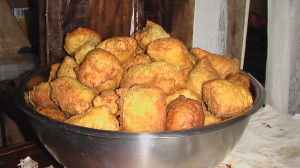 Everyone came home at lunch time, but after all the maize at Auntie Jane's, no one was really hungry. This meshed perfectly with my plans, which had not yet included any thought of food preparation. Realizing that no meal was to be had and most of the housework was (surprisingly) already finished, Deborah and Hannah started re-organizing the veranda while some other miscellaneous pick-ups got done. Isaiah and Jonah made it back from town without the medicine, since the chemist was late coming to her shop after all.
The kids bolted to our other neighbor, Henry's, where he has a foundation hole that the community kids all love to play in. Unfortunately, that would mean that everyone would come home dirty, but I figured I'd deal with that later. Ever the engineer, Isaiah stayed behind to work on his most recent project–building a lap-sized weaving loom. In not too long, a piki piki arrived with the medicine–not too much before 2 PM. I started to bring in the laundry, as clouds threatened and the afternoon rains looked like they were coming. By 3:00, I had sorted wet from dry, started dicing vegetables for spaghetti sauce for supper, and then took a break to give the young lady her medicine. (Isaiah noted, with surprise, that she arrived just on time!) Deborah brought over one of the kids who was playing at Henry's who had gotten a small cut on his toe, so I cleaned and Band-Aided it.
Marc came home from his class, I collected all the kids for afternoon jobs, boiled some water for a few necessary baths, and now I'm blogging as the spaghetti noodles cook.
Just another day here in Kenya…