Yes, we're still here…just haven't made time to blog. And I find that once I've been away from this space for a while, it's hard to know how to get back into it. So I'll just jump in with a few things by way of update.
We've been busy on the mission front, as usual, and hope to begin  updating the Kingdom Driven Ministries blog more regularly. If you hop on over there, you'll see that we recently hosted a regional women's meeting that was a real blessing, and we separated our overly-large home fellowship into three smaller congregations. (Exciting!)
We've leased a property a few kilometers from our current home, which is eventually going to house some livestock (cows, chickens, rabbits) as well as  additional crops (bananas, maize, and I don't know what else). Milk and eggs are often hard to come by and a little more meat in our diet is not a bad thing. The property will also be used in various ways to benefit the brothers in our local fellowships.  We were  able to enjoy a little more family time than usual at year's end, which was very nice, so Marc and the boys built some nest boxes and a rabbit hutch for use at the new place.
My intermittent frustrations with homeschooling here in Kenya are no big secret, though things have gotten somewhat better this academic year. I still haven't seemed to consistently find time for Circle Time, especially for my Littles…and there are definitely things I want to work on in terms of both spiritual instruction and practical training.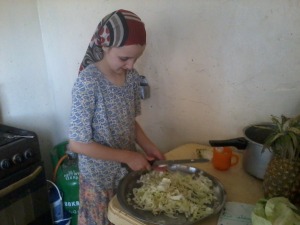 For a number of reasons, during this week I asked my oldest daughter, Rebekah (who will be 12 on Friday), if she wanted to take the week off of school and be my "Mother's Helper." On Monday she helped me move around the furniture in our sitting room/dining area. Yesterday, I asked Rebekah to do a short Circle Time with the Little ones, and she did such a good job that we talked about making it a more permanent daily arrangement. We have the rest of the week to see how she (and they) like it. Meanwhile, having a consistent second hand to assist with home management and homeschooling has been a real blessing to me…maybe that's why I have finally found time to sit down and blog. 🙂