I've often heard the expression, "Idle hands are the devil's work," and wondered where it came from. I hear it quoted like it's Scripture (similar to phrases like, "the Lord helps those who help themselves"), but I never knew the origin. So I was intrigued when we started reading the Wisdom of Sirach (from the Septuagint) and we stumbled upon this: "Put him to work that he may  not be idle, for idleness teaches much evil" (Wisdom of Sirach 33:28-29). I've often seen this to be true, and the Scripture I usually remind our children of when they start having "too much fun" is Proverbs 29:15 (ESV): "a child left to himself brings shame to his mother." That's usually followed by a request for help with some chore or another.
Case in point: our almost 14 year-old son. He's had some difficult moments…okay, maybe days…in the transition to Africa. He has a sharp mind and has always needed a project to work on. When he's left idle, he complains of boredom and here, where good "project materials" are in short supply, that boredom has often turned into a general bad attitude. I understand it and have made many suggestions for profitable things he can do, but mostly I've just prayed that God would bring a solution.
He's taken his own dirtbike completely apart and done quite a few repairs. Other times, it's been another motor bike in need of repair–along with a driver that lacked the money to pay for parts or service. Most recently, it's this: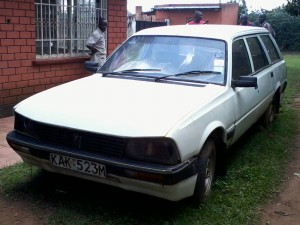 Marc decided that the time has come to get our family a vehicle. We didn't think we would; we've made do quite well with public transport and Marc's motorbike. However, since his accident he's needed to hire a car more than once, and when he takes a large team (4-6 people, who lead the Luke 10-style eveangelism teams) out for KDM missions, transport gets expensive. So it seemed that the time had come to get a car–now one of two in our little village!
However, it's in need of some TLC and, as we've discovered, mechanics here leave much to be desired. Marc grew up working on cars with his Dad and has taught Isaiah quite a bit but they've never been able to get their hands dirty together very much–until now. They spent Monday and Tuesday at work over the car, and yesterday when Marc left for a training meeting, Isaiah spent the day solo doing some more repairs. He was in his element, and pretty much only took a 20-minute break for lunch. Oh, well, he wasn't exactly solo–he had a frequent little helper: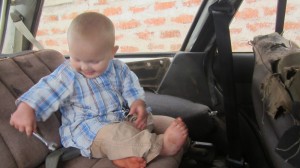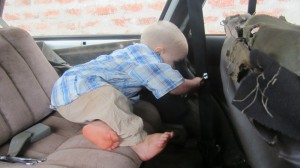 As parents we are often limited and can't always give our children what they need. But God can. My son has a heart for God, but he also has an analytical mind and a need to do something productive. Though our opportunities here have been limited, we've grown in grace as we've weathered all the bumps in the road and the Lord has been faithful. I'm thankful.