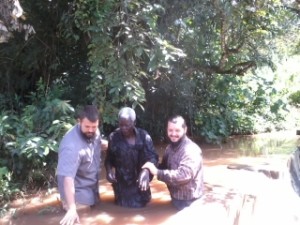 During our Sunday morning fellowship, all the men are free to share  as the Holy Spirit leads.The interactive service is usually encouraging, often interesting, and sometimes just l-o-n-g. In African culture, wazee (old men) are respected, and since our church boasts many of them, it's not uncommon for all of them to feel compelled to say "something." This week, one of our newly-baptized wazee, Peter (I think he is about 80 years old), sang us a worship song, which brought a smile to my face.
However, mostly I am still thinking about what Nashon shared…wish I had a picture of him to show you, but the fact that we don't might tell you something about how shy he is. Marc sometimes takes him along for assistance with translation, and if he's struggling with words or if something strikes him as humorous, he often gets a hard-to-control case of the giggles. Nashon is (I think) 23 years old, which here in Kenya is still considered a "youth." (A youth can actually be as old as 30!) But his challenge to all of us during this week's fellowship showed a wisdom that perhaps even the wazee would envy (though I'm sure they would never say so).
Many spoke about loving one another this week (must have been a Holy Spirit theme) and I don't think I could even summarize all of what Nashon had to say, but really, it was only one statement/question which made me think, and perhaps even challenged me:
People find it easy to love someone who is far away. But you, how are you loving your neighbor?
And isn't it true? When we lived in America, it was "easy" to send money to this cause, that person…all good, and certainly something we should all do. I'm not knocking financial giving. But at the same time, I could be challenged to love those closest to me in practical ways (even my family members) when I had to see all the attitudes and behaviors in them that I didn't like, deal with situations that weren't easy or comfortable, and see in myself all the areas needing improvement as a result.
How often do we all willingly give or do things for others who are "far away" (i.e., perhaps not intimately involved in our lives), but neglect to really love (in word and deed) those closest to us? Why is it that others so often see our good sides, while we "let it all hang out" at home and let those we're supposed to love the most see us at our very worst?
As a fellowship, we got back together at 6 PM for our communion meal. Our brother  Sam opened up the fellowship by sharing a bit, and I don't know if he meant to continue on the morning's theme, but he also talked about loving others and wondered,
If someone went and talked to your neighbor, what would he say? Would he say that you are a Christian?
It's true that we all will only stand before God in judgment and that no man can know another's heart…but at the same time, a tree is known by its fruit. The people we are closest to are the ones who should be witness to our "fruit." And they are, whether it be good or bad.
You, how are you loving your "neighbor"? If someone went and talked to your neighbor, what would he say?