We have a solid first-tier of disciples here in Kenya (small in number but mighty) and a handful of others who are coming along, slow but sure. It is time to help them run with the vision for expanding the Kingdom of God. But just as we wazungu utilize the Two Kingdoms tract and the pamphlet of the teachings of Jesus to simplify the process,  they want to, too. That costs money, of course. We receive donations that fund this, and we also are able to offer  financial gifts to kick-start or expand businesses, provide food and medical care, subsidize funeral expenses, and whatever else seems needed at the moment. These folks are so hand-to-mouth that to be able to engage in Kingdom living and giving on this scale seems like an impossibility, and Kingdom Driven ministries (in the form of missionaries living here, anyway) isn't going to be here forever. What then?
And so it begins: we're taking what we've done here on the ground in terms of "making disciples who make disciples" and trying to make it self-propagating (i.e., not reliant on a constant influx of Western money). Marc is, of course, primarily the one involved in making this happen and he's trying to begin with projects that will be successful, will replicate, and are not too difficult to implement. He's looking at all of the strengths of the current discipleship here, determining what level of involvement they want in a project, what their giftings are, what the various returns on investment will be, and so on. (God is really utilizing the project management skills that Marc honed as a professional in the US!)
First up: buying large bags of dry beans. Right now they sell for about 100 KSH per kilo, but in a few month's time they'll be up to about 140, and in just shy of a year they might go as high as 200 KSH, if past performance is a reliable indicator. I don't know how many kilos we've bought so far (I'm a blogger, not really involved in the operations!) but currently it's stored in our office. Kingdom Driven Ministries has purchased a very small plot of land locally to build a storage building, but that can't be completed until after the maize is harvested, in a couple of months' time. Here's what it looks like: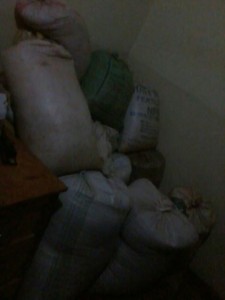 Also, Marc has had a vision for teaching and equipping locals with the Farming God's Way agricultural method, but he also wants to utilize it to profit the ministry so that the funds can be used to support Kingdom expansion and meet practical needs within the community. Project Number Two: KDM has leased a plot of approximately a half-acre, which will be farmed for maize and beans beginning early in 2014. An immediate need is to prepare the land by gathering large amounts of appropriate mulch. In a place where you very rarely get something for nothing (and where wazungu generally get charged double the usual going rate), Marc was thrilled a few days ago to get offered a free supply of non-flowering grasses from the property of a local muindi (person from India). He immediately mobilized several workers–one volunteer manager, a couple of Kingdom Christians who were in need of work, and several others from the community. The first day, we paid from our personal funds to gather some more mulch for our own garden (which this year functioned as a Farming God's Way test plot). Today and tomorrow is earmarked to collect for the KDM field. For about $15 per day, we can gather as much as we want (mulch is free, only a daily wage is paid to the workers, at the rate of about $3 per person per day). Since the field we leased is currently home to someone else's maize, we're storing the mulch in our front yard.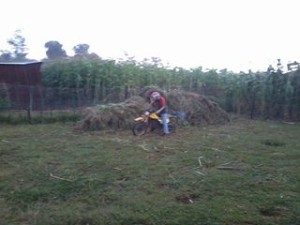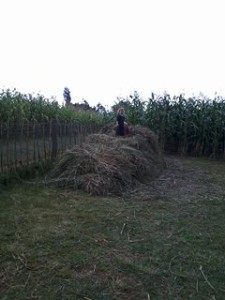 The kids are having a blast tumbling on it, throwing it around, building things with it, and whatever else they can think of. We're excited about what it will do for funding future missions, not to mention how it is currently profiting our local community by providing several days' labor for quite a few people. We are thankful that the Lord has provided a free source for this necessary ingredient for successful farming, which could have potentially been very costly.
We trust you are rejoicing with us in seeing how God is moving in East Africa for Kingdom expansion! We appreciate your prayers, and if you wish to donate to this or other work, you can do so here: www.kingdomdriven.org/donate. To give specifically to this project, you can give a general donation and earmark it with a note upon checkout, such as "Farming God's Way project."