Yesterday was a big day for the Carriers as we hosted our first African wedding. Charles, the groom, was a widower whose wife died several years ago, and he recently lost the youngest of his three children to TB. Due to his wife's death (and his need to work outside the home) and the prolonged medical care needed for his little one, his older two children were being cared for at a local children's home. Ester is a widow of just a few months, with nine children (the youngest born just weeks before her husband passed away). Both Charles and Ester (and Ester's husband) had been baptized by Marc earlier last year, and they are part of a solid local house church where they have been discipled and have been growing in their faith. Charles had been Ester's husband's best friend for several years, so they have known each other well. Both saw the possibility of their marriage as a way to honor God and bring their children together in a strong family unit, also enabling Charles to bring his own children home. It was an honor for us to assist them in making their commitment official.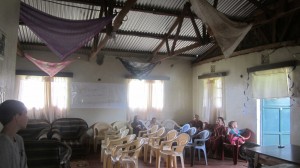 We spent the day Monday cleaning the house and the kids greatly blessed me by going the extra mile. I wanted to make sure our plastic stacking chairs were all wiped down, and the chalkboard wall and dry erase board needed to be cleaned off as well. I figured after they finished the bigger jobs like floor-washing, I'd get someone to take care of the little things. But lo and behold, while I cleaned carpets and washed the kitchen floor, the kids  jumped right in to get them done on their own. Not only that, Jonah noticed many of the spots on the walls (which have not escaped my attention, but time does not usually allow me to address them), and he got a wash basin and cleaner and went to work to make the walls sparkle!
After all the work was done, the kids decided to bless Charles and Ester's kids with some gifts–treats like cookies, lollipops, and gum from a local shop, AND some of the toys from their small box of toys in the living room. Jonah has two Beanie Baby bears that they all like to play games with, and it seems that all their games involve both bears for maximum fun. He thought aloud that maybe they should put one of the bears in the bag for Charles and Ester's children. One of our littles said, "But then we won't have two!" And Jonah replied, "Well, right now they don't have any, and we'll still have one!" So into the bag it went. Not every moment here is a "proud mama" moment, but once in a while it is nice to see that God is working something in our children's hearts. I was blessed to see their excitement in giving and to experience the unusual camaraderie over housecleaning.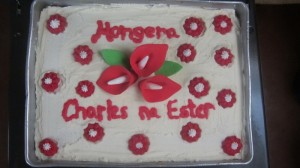 Also on Monday, I made a wedding cake (my first attempt), and I hoped it wouldn't be too "un-professional" for the big day. Isaiah did the writing with some colored frosting and a syringe, having had some experience with that when the boys made me a special birthday cake back in December. Marc and Isaiah went shopping for some of the food, including a HUGE amount of beef (8 kg, the largest amount of beef I've ever prepared). When they got home, Marc diced tomatoes, onions, and peppers and tried to add that and the diced beef to my 8-qt. pressure cooker–the only way to prepare really good beef here! But alas, my pressure cooker was much too small. Rather than do it in two batches, we decided to use my large pressure cooker/canner, which I've only used as a canner and never as a pressure cooker. It worked perfectly and the beef turned out delicious!
On Monday night, the officiating Bishop unexpectedly wanted to change the time of the wedding from 10 AM to 1 PM. This posed a scheduling problem, as we would have to notify everyone, and some were already traveling from some distance away. Not only that, but being on "African time," we were pretty sure that 1 PM would probably end up being dinner time and we weren't really sure how to "entertain" everyone until the Bishop made his entrance. Even so, we tried to work everything out and hoped for the best.
We wanted very little to do with directing the actual wedding, as we weren't sure what the local customs would dictate. It was surprisingly similar to an American Christian wedding, except that the couple didn't hold hands or enjoy a celebratory kiss after the vows were official. When the vows were taken, they actually held up their right hand rather than holding hands with each other, as is our custom. The cutting of the cake was part of the ceremony, and the bride and groom served bite-sized pieces to all the guests. I was called upon to assist with the cutting of the cake, and I wasn't exactly sure what to do. The instructions I received weren't very clear (and the tradition not familiar) so I fumbled a bit and was a little embarrassed, but everyone seemed gracious enough about my misunderstandings.Unusually, filling out of the official paperwork was done during the ceremony as well.
Here's the happy couple when it was all over, including a parting shot with some of their children:
We praise God for allowing us to be a part of this blessed event. Kingdom Driven Ministries was not only able to fund the wedding through donations, but Charles and Ester should also have assistance in purchasing some property. This will go a long way in helping them to provide for their new, large family. Please join us in praying for Charles and Ester as they begin their new life together!