Ups and downs in life are inevitable. Some days, I feel at the top of my game spiritually. I'm up early praying and reading my Bible. I see God answer those prayers. I feel close to Him. Other days, I get up later than I want to, go through the day feeling spiritually drained, or end up regretting missing out on what I see (in retrospect) as "God opportunities." Practically speaking, maybe I go to bed tired and wake up tired and feel irritable all day. Maybe I successfully hold my tongue when the volume from our nine children increases beyond my tolerance level, or when I hear their cross words and they refuse my kind correction. Or, maybe I don't hold my tongue, and then all of us feel bad for a while until I sit them all down and apologize. Some days I am productive and feel good. Other days, I just hope no one comes to the door (unfortunately, that rarely happens around here!).
None of us want to be "people-pleasers," doing what we do to get accolades and pats on the back. But,  the Bible does tell us to "encourage one another and build each other up," and to "bear one another's burdens, and so fulfill the law of Christ." We all need a boost from people around us sometimes, and I think God knows that we need other people to come alongside of us to help us be our best. But in the day-to-day grind and the ordinariness of everyday, there are few people who do that for us with any consistency. Frankly, much of what we do is unseen by others. We live largely independent lives and often just don't cross paths with people. And maybe you've been in the same position as me on occasion: when you do get some words of encouragement  ("Your children are so well-behaved!," for example), all you can do is think to yourself, "Yeah, they should sit at our supper table for a few nights, then they'd hear how often I have to correct things like feet on the table, eating with fingers, not washing hands with soap, over-indulging in food," etc., etc. Even what is meant as encouragement, when turned over in a negative mind, can have the opposite effect and we end up meditating on all we wish we could change.
Spiritually speaking, there are going to be times when you lack a mentor who can challenge you and encourage you to stay strong in your walk with the Lord. One of my dearest sisters in the Lord never let a conversation end until she asked me, "What are you reading during your devotional time?" or, "How is your prayer life?" I really loved that about her and, as a result, I've always tried to have interactions that SPEAK life rather than just TALK ABOUT life. I try to be consistent with prayer and reading, but let's face it, we all go through times where we get busy and don't have regular time for that (even worse if it's purposely so, because we don't really want to hear from God…ouch!) If you don't have someone who knows where you're at and can provide some accountability, it's often hard to get back on track. Whether practical or spiritual encouragement, let's face it: Encouragement is so necessary, but often so absent.
Over the years, I've learned something important about both my walk with the Lord and my parenting journey: neither are going to have the outcome I desire unless I encourage myself in the Lord. I can't depend on other people, my own emotions are often deceitful, and circumstances are out of my control. The only sure thing I have, the only thing I can depend on, is God and His Word. So when I need encouragement, that's where I have to go. And if I don't, it's as Hebrews says–it's all too easy to become "hardened by sin's deceitfulness" (see Hebrews 3:13).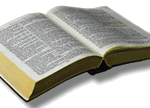 I remember being a young Mom of three and sitting in my prayer closet during the wee hours of the morning. I don't know exactly what I was crying to God about, but that's what I was doing. And then I opened my Bible to 1 Samuel 30 and read of the distress of David: the Amalekites had destroyed his city and taken his wives and daughters captive, along with the families of all his men. The people talked of stoning him. And what did he do? He "strengthened himself," or "encouraged himself in the Lord." (verse 6). What does this mean? This passage doesn't specify, but if you read the Psalms, you can see it. Even when things were at their worst (perhaps especially so, in fact), David meditated on who God is: the goodness of God; His love; His faithfulness. He remembered how God had worked on his life: rescuing him from his enemies, keeping his promises, working all David's circumstances for his good and for the fulfillment of God's purposes. David also, even in his angst, put his hope in God and in His Word. He trusted God and believed He would see God's goodness. He knew God would be faithful to His Word, so he focused on that rather than on his circumstances. This is what I have tried to train myself to do over the years (though I still have times when I'm not as good at it as I need to be).
And this is how we must encourage ourselves in the Lord when we don't have others to share our burdens, when we stumble and don't have someone to steady us, or when we get discouraged and need to re-focus. God is there. He sees and knows. He is our Helper in times of trouble. Hid Word does not return void. One of the best things I've done is to memorize God's Word over the years. Reading is good, but memorizing is even better. I actually haven't devoted much time to Scripture memory in recent years, but I was very faithful to it during my early years as a Christian and it has served me well. When I am discouraged or struggling and need to hear from the Lord, He speaks to me–usually through the Words that have been memorized over the years. And I am encouraged in the Lord. I put my hope in His promises.
Do you have a Scripture that you faithfully pray over your family, or a "life verse" that you remind yourself of regularly? Are you "encouraging yourself in the Lord" through regular times of reading and prayer? Are you reminding yourself often of what God has done in your life, trusting that He's still at work in ways you don't see?