Our twelve year-old has always loved animals. Every time I upload photos from the camera, I laugh at how many pictures like this unexpectedly show up: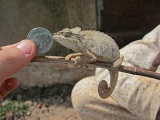 It means that Jonah has snuck the camera away to photograph one of his latest "finds." I've been surprised by chameleons, snakes, box turtles, butterflies, snails, and more at various times over the past few years.
When we moved to Africa, one of hardest things for Jonah was giving up his beloved hamster. He's wanted a pet and the family cats don't count because they belong to everyone. He wanted something cute and cuddly all his own, and though chameleons abound here and they're fun to play with, they're not exactly what he was looking for.
Then, just the other day, our neighbor's boy showed up with something unexpected: a wild rabbit he'd caught. Somehow he knew that the wazungu house was the right place to try for a sale. I summoned Jonah to the door.
He wanted 250 shillings (about $3). We'd paid only 100 shillings each for our domestic rabbits and I whispered to Jonah that he really should negotiate aggressively on the price. But he was already in love, and I think our neighbor knew it. Jonah tried to offer 200, and he was refused. Back to his room he went to get the money.
Since it was evening, we made sleeping arrangements for the new bunny, quickly named "Sungura" (which means rabbit in Swahili, since Jonah didn't know if it was a boy or a girl). By morning, it hadn't eaten any of the greens that Jo had collected for him, so Jonah fed him baby formula from a syringe every couple of hours and the rabbit never left his side–even while he was doing his school work. Jonah was tickled that the rabbit continually licked his face and neck, and when Jonah would move away from the rabbit on the couch, it would quickly move over and snuggle to his side. Finally, the perfect pet! Just what he'd always wanted.
That evening, Jonah typed out an email to family in America and of course, told them about Sungura. We had just finished supper, so I told the kids they could go outside to play. I glanced over the email, clicked "send," and looked at my inbox. Suddenly I heard loud voices outside and so I got up to see what was the matter. Before I got to the door, Jonah was inside. He had composed himself while in the yard, but as soon as he made it to the privacy of the living room, he erupted in sobs.
Through his tears, the story came out: he'd brought Sungura out to play in the great outdoors. Of course, all his siblings were excited to see the rabbit run around. One (who shall remain nameless), started chasing the tiny rabbit. Jonah yelled, "Stop! Don't do that!," knowing that his sibling might inadvertently step on the creature. His sibling didn't listen, despite several warnings. Suddenly, a foot met the unfortunate rabbit's neck. Blood immediately spurted from its nose. I ran outside to see what could be done, but it was, of course, too late and too serious.
The sibling was disciplined, and we all cried. It was an "accident"…but it wasn't. This particular child has struggled to respect the word of older brothers and sisters lately. When corrected by them, this child has been obstinate about NOT listening and NOT following their direction. The rebellion has been obvious to everyone. It has been corrected by parents and siblings alike, and we've also tried to teach through the Word of God the importance of listening to wise counsel, obeying older siblings in the absence of Mom and Dad, and so on. To no avail.
If it had been an unfortunate accident, there would have been no punishment. But it wasn't. It was sin. And this time, there were consequences. Unfortunately, it was not to the child only but to a beloved brother.
It was  a quiet and sad evening in the Carrier home. But we had some good conversation as a result. The brother forgave and his sibling repented. I know it is for God's glory and our good.
But the boy still misses his bunny. He's still a little sad. And things are still a little quiet as we all process the sadness of this circumstance and meditate upon the ugly consequences of sin.