This week I got an email from my sweet sister, wondering why I haven't written her in a while. She's worried because she hasn't heard from me! I had to assure her, I just haven't emailed because really, life has been quite ordinary. (Notice I didn't say, "Normal.")  Since our "ordinary" doesn't leave a lot of time for things like blogging,  as I was downloading our precious few photos from the camera (haven't kept up with picture-taking, either) , I figured I'd update the blog with a few pics.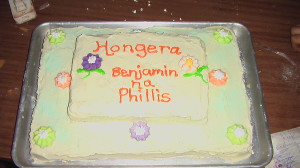 Apparently my fame as a cake-maker has spread far and wide after the wedding of Charles and Ester at our house. A few weeks ago, one of our neighbors asked if I could make cakes for a Catholic wedding, a local man and woman who have been living as "married" (and have two young children) but have recently become a part of the church and wanted to make their union "official." The larger cake was for all the guests to eat and the two smaller cakes were for the priest and for the bride and groom. I've never been a professional when it comes to cake decoration, and doing the work without good tools at my disposal is even more of a challenge (I did the writing with a syringe filled with frosting!), but everyone was happy with the effort.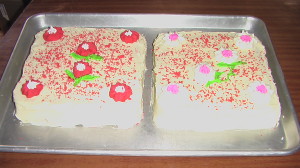 And I don't think you've been introduced to our Kitty. She is her Daddy's girl and almost always comes to sleep next to him at night. Enoch terrorizes her (along with our other cat, Tiger). During the day she often trolls around looking for food and can be very sneaky in getting her share. Her favorites are meat and milk. When the boys came back from market the other day with a kilo of beef for supper, Kitty sniffed it out and perched herself on top of the backpack in an effort to claim it for her own dinner. Of course, we easily thwarted her attempt and put the beef safely in the kitchen drawer until it could be prepared.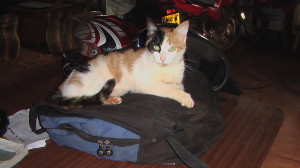 Speaking of Tiger, he and Kitty tend to be very patient with Enoch's love of them, I think because he also feeds them during meal times. Here's a photo of Enoch sharing his breakfast mandazi under the table: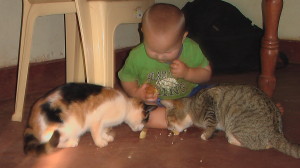 Oh, but wait! He's still hungry himself…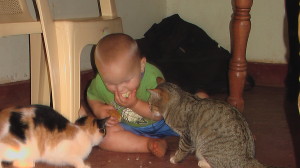 Finally, here's a recent shot of Jubilee, our 4 year-old, wearing her kitambaa "the Auntie Jane way." (Auntie Jane is our neighbor and she always ties her kitambaa this way, which is different from how I do mine, but it looks cute on Jubie!) True to her name, Jubilee is usually all smiles (when she's not stubbornly insisting upon getting her own way, particularly with her 6 year-old and 2 year-old brothers).
Those are all my recent pictures, and some of the more ordinary happenings of our every day. God is good, all the time!