Enoch loves his big brothers' Suzuki and when they go off to the market on it, he can often be seen staring longingly after them at the gate. When Dad starts up the Yamaha, he stands behind it and puts his hand to the exhaust or tries to maneuver his foot onto the footrest to climb up onto the seat. Occasionally, he puts on his shoes and dons a bike helmet, thinking that maybe someone will get the hint and take him for a ride. Aside from spins around the yard with his big brothers, though, his motorbike dreams have gone unfulfilled.
Until Monday.
He had his last immunizations in America just before we moved and I was advised that he could wait until age 2 to get further updates. Well, he turned 2 in June and so the time had come. I especially wanted to get his tetanus booster, as he is very active outdoors, often forgets his shoes, and there is the occasional rusty nail sticking out of a board abandoned by one of his big brothers, in pursuit of one project or another. There was the small matter of transportation into town, however, as we no longer have our family car. So it was decided that Marc and I would take Enoch into the village sandwiched between us on the Yamaha, after which we would hire a car into town to visit the doctor.
Enoch couldn't contain his excitement as we prepared for the trip on Monday morning. As we made final preparations and left orders for the big kids remaining at home, he loitered around the yard and stood beside the motorbike…waiting…waiting…and finally, the big moment arrived! Off we went…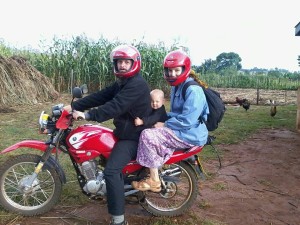 It was a long, s-l-o-w few miles' ride into the village. It had rained all the night before and the road was recently graded, so we slipped and slid our way along, with Marc occasionally putting his feet to the ground and walking us along. Enoch held on tight, his excitement never waning, his head turning from side to side to take in all the sights: donkey carts, sheep and cows grazing, chickens running across the road, lots of foot traffic, shops, and fellow motor bikes.
I breathed a sigh of relief when we dropped off the motorbike and crammed into a private car for the trip into town. Another vvrrrm was just as much an adventure for Enoch and the mini-mzungu got lots of attention.
I can't say he enjoyed getting his shots, but I had packed a lollipop just for that purpose and it was a suitable diversion. Then we went across the street to another doctors' office, where Marc had met up with Tonny (his translator) and Tonny's wife. Jennifer has been having medical issues and the care she has received at the district hospital hasn't really been adequate to diagnose and treat the problem, so Marc got a referral to a good private physician to try to find a solution. We hung out there for a while, then Marc and Tonny went to the Agro-Vet next door to get a rabies vaccine for our dog. (They have rabies clinics here, but only about once per year, and that was another issue that I have been thinking needed remedying.) Turns out that Marc could get the vaccine and do it himself (which is no problem for him, though I probably wouldn't want to), but he had to buy 10 at a time, versus just the one we need. However, that's still cheaper than having the vet come out to our place for a personal visit.
Once we were done at the doctor's, the three of us did some shopping and picked up a few items we can't get at the local market: ghee; vinegar; hairbrushes for the girls (can't seem to keep tabs on our single brush, and they were surprisingly only 12 shillings each!); of course, pizza fixings for supper, and THIS for Enoch: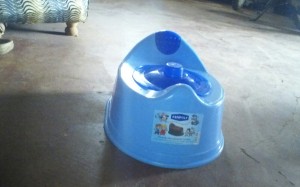 At two years, two months, he's the oldest Carrier baby to *not* be potty-trained, but he's terrified of the outhouse and hiking out there when the need arises (not at all predictable at this age, and not very much notice, either) isn't conducive to the process. So this little pot (at just over $1) should suit nicely.
Finally, a nice restaurant lunch for the three of us. Enoch was very chatty as we sat down to eat…this was a rare treat, to be sure. We all enjoyed the fish fillet, fries, and Fanta, and then we got back in a car to head for home. Another nervous (on my part) ride down our dirt road, and Enoch entered the house just about beaming. I think he wished he had more words to tell his siblings all about his days' excitement!
The day wasn't over for Marc, who vaccinated our dog and then made the rounds to our neighbors and gave all the local dogs shots as well. I mobilized the kids to make pizza–Deborah is our cheese-grater and Rebekah makes the sauce. I do the dough, and all the littles help assemble when the ingredients are ready.
Pizza…yum! A fitting end to Enoch's adventuresome day.